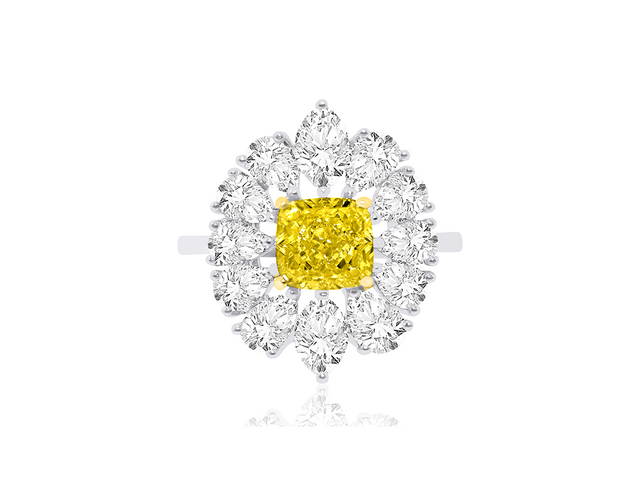 coloured diamonds of any hue are among the rarest gemstones in the world. Indeed,the gia estimates that fewer than one in 10,000 fashioned diamonds qualifies as a fancy colour of any kind.  Among all coloured diamonds perhaps no colour is as desirable as yellow.  owing their colour to natural distortions in the crystal lattice,yellow diamonds have been admired and collected throughout history and form the centrepieces of some of the world`s greatest collections.  The 10.29ct cushion cut Allnatt Yellow sold for over 3 million us dollars at christie`s auction,geneva in 1996.
butterfly diamonds kildare ring is a mesmerising fancy intense yellow cushion cut diamond surrounded by an array of exquisite pear and marquise cut sparkling diamonds all on a gleaming platinum band. The fancy intense yellow diamond is 2.04ct,the marquise diamonds are 0.71ct and the pear shaped diamonds are 2.26ct.
Please contact us for further information of the gia report.